Word cloud as a narrated legacy in ICU
The "3 Wishes Project" is an initiative born in the Intensive Care Unit of the Hospital of Hamilton in Canada. The goal is "to improve the quality of the dying experience for patients and their families". By requiring patients to express 3 achievable wishes, the project team tries to bring peace and make unique the "journey" of every person hospitalized. Finding a low cost and low risks strategy to enhance the experience of end of life of Canadian citizens with serious illnesses is the final aim of the 3WP.
The realization of a word cloud which represents the patient's narrative and his family is a common desire expressed by these patients. The team of "3 Wishes Project" promoted the narrative medicine as an approach to the creation of these word cloud, publishing in 2016 a study in the British Medical Journal.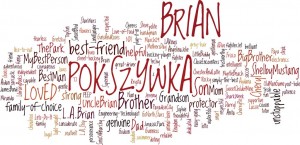 "Word Clouds were initially conceived as a gift to the family, as a way of coming to know and honouring the patient and family. While we initially hoped this gift would be meaningful, we came to recognise that it can be much more than that, powerfully effecting the relationships among patients, family members and clinicians."
To realize the word cloud, the project team has collected the stories of patients, families and clinicians asking them to talk to the person hospitalized. The chosen words, then, reflect the characteristics, passions, interests, and the stories they share.
Creating Word Clouds represents a process of both grief and healing, encouraging a narrative approach to medicine which creates a forum for reflection for the family, and encourages clinicians to see beyond the medical status of the patient. As a completed product, Word Clouds give the family a memento of their loved one to keep and cherish, contributing to the patient's legacy that lives on after death.
Share: