The complicity in the care, SIMeN national congress in Arezzo – May 10/12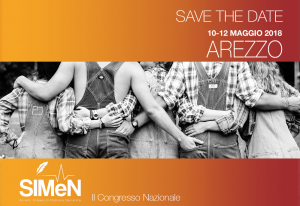 ---
The main theme of the congress is complicity in the treatment. We all need it so much. Not only complicity in care but among professionals, among researchers, to promote interdisciplinary care that without complicity is impossible to achieve. – Maria Giulia Marini
From 10 to 12 May. These are the dates dedicated to the National Congress SIMeN, entitled "The complicity in the care", which will take place in Arezzo. The meeting will be held at the Auditorium Pieraccini, San Donato Hospital, and the central theme of this second SiMeN Congress will be the complicity.
…. the complicity that develops between individuals who collaborate, each in their own role, to build a new approach to Care in individual stories and in the context.
…. the complicity that helps us to see the invisible power of the word between the caregiver and the suffering person.
…. the complicity that allows us to integrate points of view, the primary objective of Narrative Medicine that becomes concrete in the practice of Care.
Share: