Story of a publication: the CRESCERE project on Future Medicine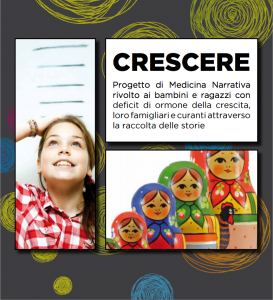 Publishing the results of a Narrative Medicine project on scientific journals is still considered a risky ambition. The scientific community usually confronts through other types of information, based on data that are scientific, evidence-based, and proven by clinical trials and control studies.
Just few years ago, a Narrative Medicine projects was accepted by scientific community as an "alternative" initiative, to relegate in the psycho-social care field: "It does not deal with medical professionals and scientific societies, it is not based on objective data". Yet, since more than twenty years, professionals groups from all around the world have decide to try to improve some aspects of their everyday clinical practice, and to fill some perceived gaps with narrative. This tool allows to practice careful listening and deep comprehension of patients, but also of professionals and colleagues, in order to integrate clinical knowledges with people's contexts and experiences – aspects inevitably turning out in every care relationship.
The CRESCERE project, dedicated to children and adolescents with GH deficit, their familiars and doctors, was born in 2013 and involved 11 pediatric centers expert in GH care (represented by 11 endocrinologists and their teams) in a collection of narratives all-round, dedicated to little patients, their parents and teams themselves.
The result of this innovative project – developed by ISTUD Foundation and patronized by A.Fa.D.O.C. (Association of Families of children with Growth Hormone Deficiency) and by SIEDP (Scientific Society of Pediatric Endocrinology and Diabetology) – are contained in 182 narratives telling care pathways for GH deficiency: well-organized and managed pathways that yet provide for a long, invasive, and difficult therapeutic project, sometimes too much to sustain for little patients and to support for familiars and doctors. Starting from simple stories of care and everyday experiences of GH deficiency condition, visits, everyday injections, and expectations, many sparks are offered to the carers in order to improve communication during the therapeutic path. Many moments of discouragement, the rebellion typical of adolescence, the fear for the therapy by children and parents, the questions about future must be passed. Narratives, if well valorized and methodically analyzed as expected by Narrative Medicine, can activate a virtuous process, such as that started at the conclusion of the project: a publication containing all narratives, in order to spread them to families and care centers; a Consensus Conference to unite representations of involved subjects – familiars' associations and professionals – and share recommendations and indications of empowerment of communication with children, adolescents, and their parents; finally, a scientific publication, to enhance and legitimize Narrative Medicine tools and the realized initiative to scientific societies.
This process was not simple neither short, and it was sprinkled by initial diffidence and refusals – "It has no priority interest for our journal" – but neither impossible. In these years, even scientific editors are becoming aware – at least those interested in offering to scientific communities innovative contributions, integrated between strictly medical and scientific information and qualitative ones, more respondent to the real requests in the everyday clinical world, that dealing with relational aspects, professional motivations, emotional spheres and experiences. Certainly, this does not influence negatively the quality of published works, and this gives even more importance to the result obtained with the CRESCERE project: we can do quality Narrative Medicine, that with method and respect listens to narratives, enhancing and systematizing them, in order to obtain concretely useful indications for who lives care pathways and who manages them.
Gladly we present you the paper resulting from this work, now available on Future Medicine journal and open access. We thank all professionals who believed in this project and all the children, adolescents, and parents that with their narratives constituted its soul. The story of CRESCERE projects continues…
Article "Stories of experiences of care for growth hormone deficiency: the CRESCERE project".
Share: