RICH PICTURE: A NEW METHOD FOR PATIENT JOURNEY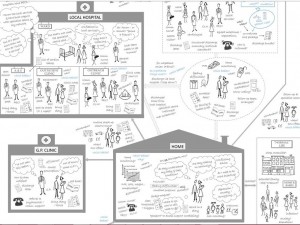 When tackling complex problems in service provision across multiple settings, it is important to acknowledge and work with multiple perspectives systematically and to consider targeting service improvements in response to confined resources.This new method to represent patient's journey and its potential improvements, the Rich Picture, a qualitative method, joint with quantitative analysis gives to research methodology a deeper and faster view, together with an aesthetic comfort.
The Rich Picture follows no commonly agreed syntax, usually consist of symbols, sketches or "doodles" and can contain as much (pictorial) information as is deemed necessary. In this case, the Rich Picture was a source of shared learning and engagement for a broad range of stakeholders involved in the complex care pathway. It informed, and was used alongside, conceptual models that the operational researcher used to guide the systematic consideration of potential service change by an expert group. Study findings (including the Rich Picture and graphical data summary) have been shared with wider interested parties and fed directly into a consultation on standards by National Health Service England, and their commissioning of these through service specifications and a Quality Dashboard.
(Fonte: Combining qualitative and quantitative operational research methods to inform quality improvement in pathways that span multiple settings, Sonya Crowe, Katherine Brown, Jenifer Tregay, Jo Wray, Rachel Knowles, Deborah A Ridout, Catherine Bull, Martin Utley. BMJ Qual Saf bmjqs-2016-005636 Published Online First: 6 January 2017)
Share: