Review written by John Launer of the book "Reading the Psychosomatic in Medical and Popular Culture"
We have decided to offer our readers an interesting review, written by John Launer, of the book "Reading the Psychosomatic in Medical and Popular Culture", a work well-finished by Carol Ann Farkas and published by Routledge.
The book contains a chapter on Narrative medicine and fibromyalgia, written by Maria Giulia Marini, Paola Chesi, Luigi Reale and Daniele De Narro. Through the contemporary use of patients' diaries and parallel chart it was possible to change the quality of the relationship of care, generating sustainability for the health care system with less doctor's shopping.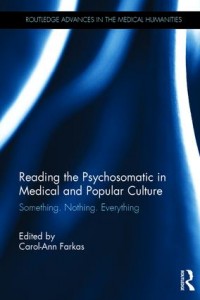 Some forms of human suffering can be given clear, incontestable names – like strokes and broken bones. Other kinds of suffering, ranging from depression to fibromylagia and chronic fatigue syndrome, fall into a greyer area: different doctors may not agree about their causes and nature, or indeed whether some of them exist at all. Within and beyond this world of medical limbo, there is suffering that attracts even more contestable labels: "medically unexplained symptoms", "heartsink patients" ," all in the mind", "hysteria", the "psychosomatic." In this outstanding anthology, medical and humanities scholars from around the world tease apart the philosophical and cultural conundrums that surround these terms and what they denote. They examine the personal, relational, social, economic and political tensions such conditions both encapsulate and attract. Many of the authors point towards the role of medical humanities and narrative medicine in taking patients and professionals beyond the Cartesian hall of mirrors and towards a state of personhood where healing can happen. At the same time, the book challenges readers with a bigger question. In the words of editor Carol-Ann Farkas it asks: "How do the illness and brokenness of the psychosomatic function metaphorically to illustrate all manner of other conflicts, other sites of what is broken, throughout our culture?" I highly recommend this fascinating, thoughtful volume as a key interdisciplinary text on the subject.
Share: