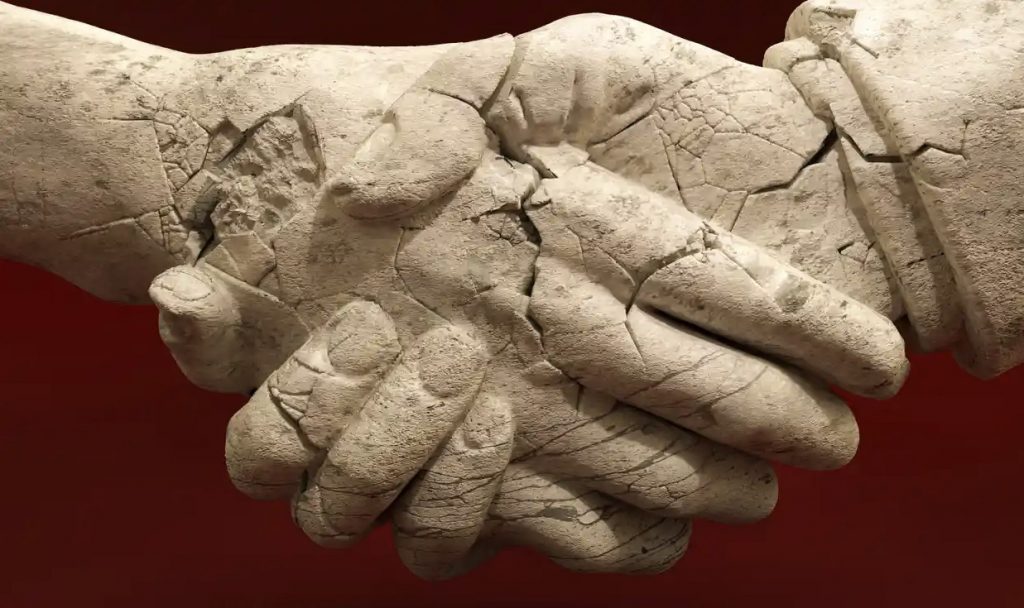 Dr. Pennisi is a pneumologist in Catania. Since 2000, he has been responsible for the Functional Unit of Diseases of the Respiratory System at the Musumeci-Gecas Nursing Home in Catania and since 2010 he has held the position of Consultant Pneumologist at the "Mons. Calaciura" Rehabilitation Centre in Biancavilla. In addition, since 2012 she has been a lecturer in Diseases of the Respiratory System at AISeRCO (Italian Academy for the Study and Clinical Research in Osteopathy).
Professor Agata Spina has a degree in Philosophy and teaches Italian and History in secondary school. She suffers from a chronic illness and has been followed for years by Dr. Pennisi.
Hereafter Dr Pennisi will be indicated by AP and Professor Spina by AS.
MN will indicate the interviewer.
---
MN: WHAT DO YOU THINK TRUST IS?
AP: We can consider it as a strong empathy of the patient towards the doctor; trust is the giving of oneself completely and holding on to a point of reference: the patient must understand what medicine he is taking and why he is taking it. Trust is very important for adherence to therapy. Trust also means knowing what the disease is, whether there are limits to recovery, and relying on the referring doctor who can maximise everything if one cannot recover.
MN: DOES THE DOCTOR ALSO HAVE TO TRUST THE PATIENT?
AP: The doctor must put himself in a position to gain the patient's trust. The patient has to understand what their disease is when they leave the doctor's office. I show them the CT scan and translate into understandable words the damage they have in the lung. This brings confidence. The patient has to understand the disease, the cure, the goal. The patient who cannot recover must cling to the health care provider to improve their quality of life in the best possible way. People must know in the most benevolent and objective way possible.
MN: IS TRUST A MEDICINE?
AP: It is one of the best drugs. It is the reason why patients take medication. If you have trust in the health professional, you have trust in the proposed treatment. If, on the other hand, the impact has not been empathetic and the doctor, if you find an arrogant and incomprehensible doctor, if a complex therapy is not explained, if you are not told what the therapy is about, I challenge anyone to follow a therapy: you can take it on the first or second day, but adherence is something else entirely, especially in my field, respiratory, where patients have chronic therapy.
MN: THE DOCTOR MUST HAVE CONFIDENCE IN HIS OWN RESOURCES, IN HIS OWN MEANS. ARE THERE CASES IN WHICH THIS CONFIDENCE FALTERS, AND HOW DO YOU RESTORE AND CONFIRM IT?
AP: There are situations where you can't go beyond a certain type of examination, but in my field there is also the surgical component, and so in one way or another you always arrive at a diagnosis, it's just a matter of time. It's good to say that you have to follow protocols: there can be no therapies invented by the doctor, but there is the best therapy for the patient. The doctor must create a tailor-made therapy based on protocols. There is the disease, but there is also the patient. The doctor has to align himself with the patient, with the language and behaviour most appropriate to the individual patient. So when the patient leaves the doctor's office, he is sure to have had a complete examination.
AP: Mrs Spina has a chronic lung disease. I provide everything medical science can do, but there is no cure, only treatment to avoid complications. So let's have a form of contract: where you have your own autonomy and quality of life and I undertake to make you better with as little medication as possible and by putting my time and resources as a doctor at your disposal. For us doctors, it is important to be there in any way and at any time.
AS: What I can express is a sense of gratitude. In my history I went to doctors all over Italy, but nobody could give me an answer. So to meet the doctor who understands, who knows, gives a sense of great relief. I felt saved. We made a pact: I know I can't get out of this situation, but I can live it in the best possible way. And knowing that I can knock on a door and get an adequate response, with medication but also with just advice and attention, is giving me back a sense of air and life. I feel reassured because I know I can be understood.
MN: WHAT DOES TRUST MEAN TO YOU?
AS: For me it is one of the most important qualities, the foundation of human relationships. But it requires a lot of care and perseverance, it is a quality that must be cultivated, it is not born and lasts without attention. It is a quality that must be cultivated, it does not come into being and last without attention. From my own experience, I say that trust is therapeutic: it is acquired through empathic contact and sets in motion a process of self-healing, as well as healing. One pole is the doctor, but the other is also the patient, who must feel active: the relationship cannot be based on a passive or dependent attitude on the part of the patient. Trust also has sister qualities such as acceptance, reliability, honesty, gratitude and respect.
MN: SO WHAT DOES A PATIENT EXPECT FROM HIS DOCTOR?
AS: First and foremost, I expect the ability to listen, not only to the symptoms but also to my story. A doctor must not only be able to treat the organ, but also to pay attention to the person. Then of course we expect the doctor to have medical-scientific skills, to be open to research into new therapies, but above all, as the doctor said, to personalised, tailor-made therapy. And then I expect sensitivity and good communication skills, because scientific language often distances the patient from the doctor. And I am referring to communication skills that go beyond verbal ones: my first contact with Dr Pennisi was at a very difficult time and I remember very little about it, but I distinctly remember the doctor's gaze and I will never forget it.
MN: YOU HAVE BEEN FOLLOWED BY DR. PENNISI FOR SEVERAL YEARS NOW. HOW DOES THE RELATIONSHIP OF TRUST BETWEEN DOCTOR AND PATIENT MATURE AND BE MAINTAINED OVER THE YEARS?
AS: The relationship has matured over time, a time that can be measured in years, but above all an inner, internal time during which we have developed this pact. This empathic relationship has been strengthened. It's like finding an even broader sense than the strict sense of the patient-doctor relationship: I feel accompanied by him, even in the therapeutic choice. It is an attention to ask how the disease evolves, how he feels. I go to talk to him, and the time is broader than the visit in the strict sense. We share a space which for me is a place of safety.
MN: SO IN YOUR OPINION TRUST IS A DRUG?
AS: It's the basic, fundamental drug, on which everything else is built. It is built when the doctor is clear and knows how to tell the truth. The clarity of the relationship also allows the patient to know what they can ask of the doctor, what they can expect and how to collaborate. Trust has to be built time by time, moment by moment. There is a part that is up to me. It is not a passive listening, but I am asked to respect my pact, to follow my therapy. And this also motivates me to respect the doctor's instructions because trust also has to do with fidelity. When there is no trust you go hither and thither looking for an answer.
MN: FROM WHAT YOU'VE TOLD US, THERE WAS A PERIOD OF DISSATISFACTION IN YOUR SEARCH FOR AN ANSWER, AND MY QUESTION IS HOW DO YOU LOSE CONFIDENCE IN YOUR DOCTOR?
AS: When you feel a certain lack of interest. Or the patient wants to get something done right away and is therefore uncooperative. Sometimes it's as if a thread is broken. In other situations I have seen the doctor lose courtesy and kindness, or the readiness to help. When the doctor does not have the pragmatic competence to intervene, this can unravel the relationship.