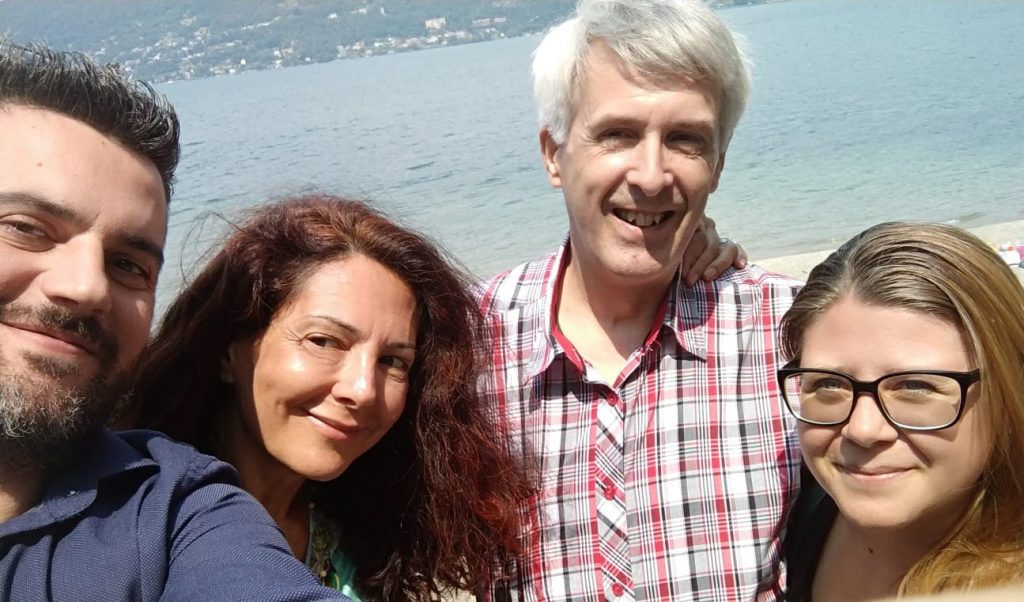 Nostalgia means the suffering of missing a home place.
However, it may also mean the suffering of missing someone so dear, and so important in our lives.
Prof. Bert Peeters passed away on February 23, this year, after he was diagnosed a brain cancer at the beginning of 2020 . 
Currently Professor of Linguistics at Australian National University in Canberra, Bert Peeters held appointments at the University of Tasmania (1989-2006) and Macquarie University, Sydney (2007-2013). His research focused on the broad area of language and cultural values, including the Natural Semantic Metalanguage.
With the group of the Health Care Area of Fondazione ISTUD, through a distance collaboration all over 2016 and 2017, the illness plot that we currently use in our narrative analysis was developed and finetuned. We went to Canberra, in March 2017, to meet each other for a Workshop on how Narrative medicine could be helped by the discovery of Natural Semantic Metalanguage, the collection of the 65 universal words. Meeting in March 2017, after having worked for one year online through Skype, with a time zone difference of 10 hours, was encountering for the first time in real life, a person who helped, guided, dialogued, taught, and listened.
Together we built the illness plot to collecting narratives from patients, carers; since made by universal words to be translated in all the languages of the world, they are immediately understood and avoid biases of translation. With this tool, we have been giving people the possibility to express their inner thoughts, to transform the untold in told, to achieve a level of awareness due to the simplicity of the used words.
This tool has been the result of the cooperative team led by prof. Bert Peeters on the Australian side and by the Health Care Area, guided by me, at this moment writing these nostalgic lines.
In Australia, in Canberra, I felt at home together with Bert, prof. Anna Wierzbicka and Prof. Cliff Goddard, the discoverers of this Kinship Language.
In July 2019, Prof. Bert Peeters came to personally know the other researchers and teachers of the Health Care Area at Fondazione ISTUD, in Italy, and he gave a wonderful lecture on how emotions can assume different meanings according to the local words and how only the Natural Semantic Metalanguage was useful to deconstruct to the roots of meaning these inner movements "the emotions".
We had a wonderful time together, speaking of words and how to read them through both a humanistic and a scientific glance. And more than this, making plans about the future cooperative programs.
Life is unpredictable: few weeks after his diagnosis, Covid-19 surrounded the world.
Nostalgia is for you, dear Prof. Bert Peeters, with whom I/we negotiated every single word of the illness plot, for the wonderful cooperation across continents, and Nostalgia is for the times before Covid. Now, it's time to take the social mask off and stop speaking about resilience and antifragility.
We all missed a reference point, beyond the other many reference points we missed with Covid-19 and our journeys are left over only in dreamscapes.
Knowing very clear what you were facing- brain cancer- you asked that our work should continue in bridging linguistic with Narrative Medicine: we will embrace your legacy since this is one of the wisest methods to develop and explore the beauty of narrative medicine. And we will grow during this Covid-19 experience.
Thank you, Bert, for your so accurate, witty, and erudite mentorship and friendship.
Maria Giulia Marini, Paola Chesi, Antonietta Cappuccio, Alessandra Fiorencis, Luigi Reale, Tania Ponta.
Storyline:
The Polyphony: