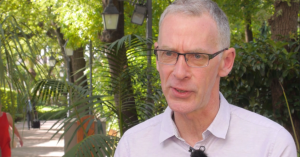 Don Redding is Director of Policy for National Voices, the leading coalition of health and social care charities, which brings patient, service and carer voices into national policy debates in England. He has led National Voices' work on integrated care, including the production of five "narratives" demonstrating what people themselves want from "person centred coordinated care". This has helped define the purpose of integration across all system leading bodies and in local areas, and Don remains engaged with the integration pioneers programme. Don also led the development of National Voices' position statement, "Person Centred Care 2020". The input of "National Voices" is taken into consideration by the National Health Service, fostering the culture of clinical governance which flourished in UK: despite the definition of "clinical governance" is something which belong to the first decade on the new millennium, the culture of engaging patients in co-creation of the public health service is still not established. This is the purpose of National Voices: and it was enriched through the narrative methodology.
MGM. What's the main challenge now for the National Health Service nowadays in England?
DR. People with chronic conditions need more integrated care, between hospital and home care, or other settings: coordinated care among all different specialists and different providers. Providing continuity of care, and not abandoning the patient, and making for them a guided and easier access to care is one of the biggest priorities.
MGM. I was informed that you have included narrative method to explore how patients intends "integrated care"…
DR. We worked with service users, NGOs and health professionals to create a collective narrative in the form of a set of 'I' statements. These are widely used in England as a vision for the goals of integrated care. This consensus narrative helps us overcome the problem that is you ask people or professionals individually what "integrated care" means for them, you have many different interpretation and needs.
MGM. Yes, in this document, under the section of communication it is stated that "I tell my story once", "I am listened to about what works for me, in my life". And this is exactly the goal of narrative medicine, for which people tell their narratives (story, not only medical history), speaking about their lives.
DR. It is a narrative for care which is both coordinated and person centred. People often ask what is 'person centred' care. In our experience patients often describe clinical nurse specialists as the professionals who are best at this. They know all the disease factors, but they also know the person and the impact of the disease on them. They are best placed to carry out shared decision making with patients in cancer care and other long term conditions.
MGM. What about the consultant?
DR. He/she should have the role of the supervisor of the decision made at the end of the whole process between nurses and patients. Sometimes, though, the consultant is too attached to their own view of what is clinically right and may overturn the shared decision work done by the nurse.
MGM. This is slightly different in Italy: our decision making is generally carried out by patients and physicians, and sometimes, due the importance of the role of the physician, at least in patients' perception, the final decision is not so much "shared" but is, even with elegant manners, imposed to the patients mind. This is why Narrative Medicine is becoming so important in Italy, to create a culture of patients' listening which will bring physicians to a more genuine shared decision making.
DR. Yes, it is a cultural process which will take time. The important issue is that there is a good connection between policy makers and patients' association. We work for the National Health Service and the policy makers and providers of care have to take in to consideration in a systemic way the "national voice of patients".