It happened to everyone, when we watching a movies, that go beyond only entertainment and observed it through personal interpretation basis on the inner state of that period.
There are videos that have a real therapeutic impact. They represent a real tools to recognize emotions, to favour reflection, to increase awareness, to reinforce a message, to express problems, to contribute to be positiv.
Watch a movies in fact could generate not only emotional sensations but also could generate biochemically effects. But can I film on our hormonal level? Can movies impact on hormonal level?
According to a University of Michigan study, watching a romantic film (The bridges of Madison County) had a increase effect on progesterone level. Intead watching tough film, for exemple "The godfather" generally could increase or dicrease testosterone level depending on identificacion with victory experience or not.
Anyway, narrative plot of movies represents an opportunity to get to know one another better, to understand what happens in our lives learning by new aspects of ourselves.
In fact for some of us speaking about oneself is an extremely difficult exercise. But doing it unconsciously through comments and reflections on film's plot, or through an actor, allows to open oneself to share their emotions and feelings .
keep in mind that, in addition to the plot, there are dialogues, images, special effects, music are all elements that contribute to arouse emotions and reactions in the viewer.
There is a discipline called "Cinematherapy" which is mainly used in psychiatry (but not only) with different purposes and approaches: "pop corn" approach to help express emotions, "evocative" approach to help you know yourself, "cathartic" approach for openness to different levels of emotion and psyche.
There are expert who help to guide the vision of specific movies, offering keys to under standing to make the viewer work on self-knowledge and awareness.
Gary Solomon, American psychoanalyst, in his book "The Motion Picture Prescription: Watch This Movie and Call Me in the Morning: 200 Movies to Help You Heal Life's Problems", began in 1995 to prescribe the vision of some specific films based on the emotional state of their patients and the goals they intended to pursue with them.
In my opinion, when we talk about cinematherapy we should be not be confuse by the suffix "therapy". It is a discipline that should not be labelled as medical or psychotherapy topic. In fact, there is not only the use of film viewing in a therapy. There are experts who can help us to understand, however cinema therapy is aimed at all (individuals, couples, learning groups) and is based on a perspective of awareness and personal growth that everyone can experience.
In our experience as trainers, film use is an extremely powerful tool for growth and reflection. In the Master in Applied Narrative Medicine programme, in each of the three training modules is proposed on Thursday evening the viewing movies about the illness. The following comparison is characterized by an inner reflection of what the film evoked and aroused and a shared reflection through the exchange with other viewers.
Watching a movie is a way to relax and feel good about yourself. How many times do we start watching a movie to relax? How many of us associate a certain film with a particular period of our lives? Or how many people wath that film that cheers us up in moments of despair?
Which kind of film, animation or movies would like to watch people in case of illness and sadness?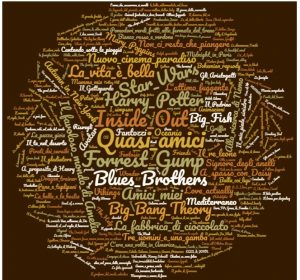 70 people responded to our survey launched through the journal "Chronical of Healthcare and Narrative Medicine", mostly women (67%), with an average age of 44 years old (minimum age 21, maximum age 67), Italian 92% ( 8% from: UK, Spain, Luxembourg, Switzerland).
The kind of most viewed film during the illness or sadness period is dramatic (37%), followed by comedy 14%, cartoon. Other genres are fantasy 8%, tv series 8%, romantic 5%, musical 5%, comic 3%, action 3%, documentary 3% and other genres).
Miro Silvera, writer, essayist, archivist of the Piccolo Teatro di Milano analyses our survey's results in this interview