Interviews from the press conference "Comprehending and taking care of people with Macular Degeneration in Italy"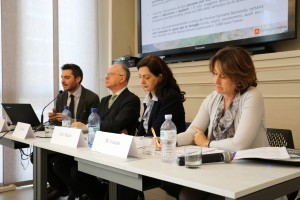 The project "VISION AMD: Value in Stories of Illness on Neovascular Wet AMD", conducted with the unrestricted grant of Bayer, has aimed to map the journey of people with wet macular degeneration with the support of twelve Italian centers of Ophthalmology, and to analyze this journey collecting narratives of patients, caregivers, and healthcare professionals.
On December 15th has taken place the presentation of the research with the participation of Edoardo Midena (Professor and Director of Ophthalmology Clinic – University of Padova), Monica Varano (Scientific Director of G.B. Bietti Foundation), Luigi Reale (Health and Well-being Area Manager at ISTUD Foundation), and the painter Lorenzo Chinnici. In the conclusion of this press conference, we collected the voices of who made this project possible.
---
Luigi Reale
163 narratives of people with age-related macular degeneration, 42 narratives of caregivers: and this thanks to the contribution of twelve Italian centers of Ophthalmology. Among main results of this important project, occurred by Narrative Medicine methodology, there is the fact that 50% of people do not know macular degeneration when they listen to the diagnosis. Not only: it clearly emerges the impact of macular degeneration in everyday life – in 77% of cases people quitted or stopped some activities. Fortunately, from the study a strong message of hope emerges: in 91% of cases people facing macular degeneration consider therapies as useful to stabilize or, in some cases, improve the visual capability.
---
Edoardo Midena
Q. What is macular degeneration?
EM. Age-related macular degeneration is one of the main causes of the irreversible loss of visual capability, especially in people over 55 years. It is characterized by the fact that macula – the central part of the retina – comes under irreversible alterations because of specific pathological processes.
Q. How does a person facing macular degeneration live?
EM. A person facing an age-related macular degeneration is a person who has a dark spot in his or her eye span (scotoma), and it impedes to do the most subtle things, but even simple such as cross the road looking at the traffic light on the opposite side, read a packet, cook, and so on.
Q. Are there some suggestions for the National Healthcare Service?
EM. Of course. Organizing better (we must not have long waiting lists) and at the same time sending people with macular degeneration to more organized structures, since we know that more prematurely we start the treatment, better will be the results.
---
Monica Varano
Q. How can we cure macular degeneration?
MV. If we talk about wet AMD, since several years we have new therapeutic strategies: intravitreal injections of anti-VEGF drugs. But these therapies give extremely positive results if the patient is particularly good in following the therapeutic pathway (several controls, and the possibility to do the injection very frequently). Doing so, we can properly control the disease and have good remains of visual acuity.
Q. What is your opinion about the use of Narrative Medicine?
MV. Narrative Medicine has been a new experience, extremely positive, because it allows us to see the disease from patient's and caregiver's point of view. This act, with all obstacles and problems linked to disease and therapy management, ensures us to arrive to more advantageous diagnostic and therapeutic strategies.
---
Patrizia Ponzi – Payer Marketing and Advocacy Manager, Bayer
Why have a pharmaceutical company to support this kind of initiative – and why does it want to do it? Because for us is important to give to the scientific and civil community researches aiming to evaluate the clinical status of the patient, and – since the patient is at the center of pathology and care – to know how patient faces with pathology, how he or she adapts, what kind of resources he or she finds to react and to contribute to the care pathway. The patient has a central role, and we want that this will be supported and acknowledged by evidences.
---
Lorenzo Chinnici
Q. Has your painting style changed with macular degeneration?
LC. Yes, impressively. Before I was a perfectionist, I was painting in a very realistic way, focusing on the "human structure", especially on figures and colors of landscapes. Now my painting style has changed, maybe it has improved. My visual is different in lines, borders, colors: I do not see colors as before, I see an amalgamation and I mix it, giving completely different tones, as musical note. If you listen to the song in a language you do not understand, yet you love music… This happens to me with art I do now. It's my world, and I'm happy. I hope it will last.
Share: