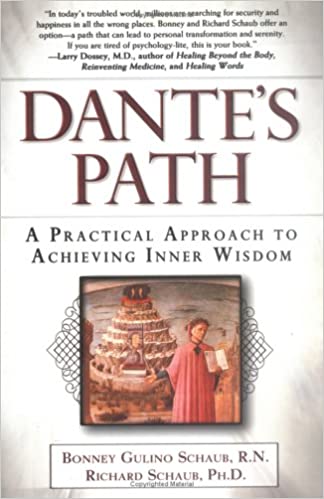 Interview to Bonney Gulino Schaub and Richard Schaub, authors of Dante's Path: Vulnerability and the Spiritual Journey, first published in 2003. They are the founders of Huntington Meditation and Imagery Center which specializes in Transpersonal Development, a scientifically-proven approach to healing that teaches patients and providers alike to tap into their inner resources of peace, wisdom, and purpose.
Bonney has an M.S. from Adelphi University as a clinical specialist in adult psychiatric/ mental health nursing and is a board certified Nurse Coach. Her current focus is the training of nurses and nurse coaches in the Transpersonal Nurse Coaching™ specialty. This includes its application for personal well-being and its application in all areas of nursing practice. Bonney is also in private practice in psychotherapy, Transpersonal Nurse Coaching and supervision.
Richard has an M.S. from Hofstra University in rehabilitation counseling and a PhD from St. John's University in counseling psychology. He is a professional member of the American Psychological Association and the New York State Mental Health Counselors Association. With 43 years of professional experience, his current focus is the training of professionals in Clinical Meditation and Imagery (CMI) skills to reduce anxiety and increase peace.
---
You had this idea of the initial possible Dante's mental illness. It looks very likely that it is commonly named a depressive state: "he was feeling lost" («Nel mezzo del cammin di nostra vita,/ mi ritrovai in una selva oscura,/ che la diritta via era smarita»). Could you comment on it?
We see only extraordinary mental strength and resilience in Dante. He wrote Commedia living in forced exile from his family and city with a death sentence on his head. He was "lost" because he was in profound existential crisis. Everyday, people enter the "dark woods" upon receiving a frightening medical diagnosis.
Inferno, Purgatorio and Paradiso – this is Dante's path: there are now schools of psychology that want mainly to consider the good things, tuning on the positive side of things and just not seeing the shadows. "Be positive", "be happy" are common statements: but you have decided to propose a method which does not make discounts on our evil side, our vices, sins, our lower instincts… would you like to comment on this?
We feel that the deepest accomplishment is to cultivate inner peace in the context of the facts of reality and life as life is. In English, the root derivative of the word "happiness" means being with what is. Dante has a fabulous early moment when he teaches this. As soon as he meets Virgilio, he sees a way out of the dark words and wants to go toward a pretty shining hilltop. But beasts block his way. Virgilio counsels him that, to go up, you must first go down. In other words, you must first accept and study the Inferno.
How was the acceptance of Dante's path to people who were coming from totally different contexts from the Italian Divina Commedia? We know that we are also far away from that historical context (700 years) but in Italy we study Dante for three years in highschool.
We received notes from people around the world, including American soldiers in Iraq, Muslim imams, rabbis, priests, ministers. One minister wrote that he stayed up all night reading every word. We got the impression that these people did not actually read the original Commedia but associated the name Dante as a symbol of the spiritual journey. We felt a spiritual "hunger" in many communications.
Your book is about personal and/or transpersonal development: would you suggest that this path could recur more than once in humankind existence?
This path exists in dormancy inside each person without exception. It is hard-wired in human nature. In current neuroscience terms, it is the journey from the fear center of the brain to the oneness center of the brain.
Dante's path in the realms of "uncertainties" of the pandemic age – from which part could we learn more? Our – if I may say – sin, is that with science we want and we think we want total control on reality in this anthropocentric world…
Dante has a profound teaching about the hell realms. You visit, you learn how to name them, and then you learn how to leave them. If you linger in them too long, they drag you down into them. The beings in Dante's hell are totally stuck. They can't move. They repeat and repeat their behaviors. It is the hell of obsession-compulsion without free will, without choice. The teacher that inspired us the most, the Florentine neurologist and psychiatrist Roberto Assagioli (1888-1974), said the mental health goal is "consciousness and choice."
Dante meets Virgilio: he meets, therefore "a professional caring person"; how to meet and to encourage the too many who think that they may save themselves alone an expert guide as Virgilio?
As part of our training, we were both in therapy for four years. We loved it. We do not know what people are afraid of when it comes to finding a guide.
«Amor che move il sole e l'altre stelle» are the last words of the poems: what are there to teach us, beyond any historical religions?
Dante clearly experienced exactly what the most current neuroscience is telling us. We have a "oneness" center dormant in the higher brain. One researcher calls it "absolute unitary being." When this center is stimulated, you experience interconnectedness with all beings and vast love without an object. It truly is the Love that moves the stars. The research on the psychedelic drug psilocybin shows that patients with advanced cancer lose their fear of death when through the drug they enter "absolute unitary being." It can be experienced without drugs. It is actually part of what we teach.
Do you believe in biblio-therapy?
Books open the door to new possibilities. Essential.