Intensive workshop Science and Technology of Narrative Medicine: some feedback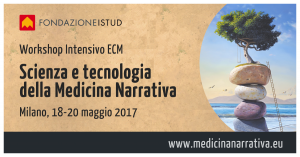 The Workshop "Science and technology of Narrative Medicine" organized by ISTUD Foundation will start in Milan the 18th May. The registrations to the course are open and it's active a promotion for those that will sing up within the 31st March 2017. The Workshop had the target of present to healthcare professionals refined and updated instruments regarding Narrative Medicine discipline, thus to improve the application inside organizations, analyse the facts that emerge from narrations in healthcare and communicate in a scientific way.
We present some feedback of professionals that participated to the last edition of the Workshop, to show, through their direct experiences, the program proposed:
Take part to this Workshop leaved to me an important mark for different reasons. Allowed me to examine in depth Narrative Medicine through the contribution of expert teachers and the reflection with and in the group of participants, anyone with his world of life and with his point of view. Like trainer, I've gathered interesting methodological prompt that I've immediately applied in my narrative-experience laboratories; at the end, the research module introduced me to some planning theories that are slowly in realization. I can say that I've received instruments to work in the reality and this for me give value to the formation. – Nicoletta Suter, Director of the Formation at the Oncological Reference Center of Aviano
I had the great opportunity to attend the Workshop Science and Technology of Narrative Medicine at ISTUD. It provided me with scientific information on how to apply narrative medicine in the field of academic research and it broadened my horizons on how to present our narrative medicine projects to managers, directors and decision-makers in the health area. Moreover, it was the time and place to exchange points of view with other experts in Narrative Medicine, thus allowing me to set up international connections in this field. I strongly recommend this workshop to everyone who has been doing research in Narrative Medicine and to those who have been using this approach and methodology to improve the quality of healthcare. – Susana Teixeira Magalhães, Researcher at Institute of Bioethics, Portuguese Catholic University.
Share: