The seven deadly sins between Humanities, disease and healthcare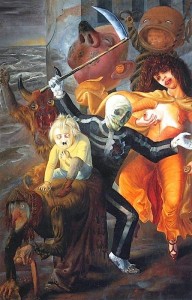 Humanities have been often fascinated by the debate on the so-called "deadly sins": these have found place not only in Epics, Literature, Arts, and films, but also in philosophy and in the symbolic universes that characterized – and characterize even nowadays – the occidental imaginary.
As Galimberti wrote, deadly sins was mentioned, even if vaguely, by Aristotle, who defined them as "evil habits", derived from the repetition of actions directing people – from here, the importance of education. While in the Middle Age these sins became the imagine of the opposition of human to God willingness, during the age of the Enlightenment the difference between sins and virtues lost its importance, to reapper – even if not sistematically – in Kant: it was raising the idea of sins as an expression of human type. The kantian "Pragmatic Anthropology" was the base of the most famous psychiatric essays in the nineteenth century, discipline that was strictly linked with physical and criminal Anthropology: sins went out from the moral world to enter in the abnormal, pathological world.
So, not only philosophy continues to investigate these "archetypes" and the concept of "consciousness", the formation of the "moral subject": sins reappear also in the contemporary debate on the so-called "deviant" behaviours – are they innate or culturally learned?
From these perspectives, deadly sins concern also the field of Medical Humanities, and pose some questions: from those about who has the power to define the norm and the sin, to those which ask if the solution could be not in repression, but in balance.
In fact, we note that sins are not necessarily negative, or better: only their extreme is. Then, wrath becomes anger against what is unjust, pride an affirmation of identity, sloth the difficulty to face to the disenchantment of the world, envy the pain for the lack of recognition in a competitive society: lust and gluttony the capabilities to take pleasures back, greed becomes parsimony. Sins are not mere literary artifices, but help us to interrogate about ourselves, our relationships, our society, and power.
We selected some "immortal" readings, with the aim to go through all these human attitudes, to get their complexity: the Preamble of Homer's Iliad, "Property" by Giovanni Verga, the Third Canto of Dante's Inferno, Shakespeare's "Othello", "Frankenstein" by Mary Shelley.
We add two little "provocations": an Italian book, "La casta" by Gian Antonio Stella, to indicate that gluttony not necessarily concerns food; and a discussion paper about deadly sins' effects (now in a negative meaning) when those are done in the healthcare system.
Share: