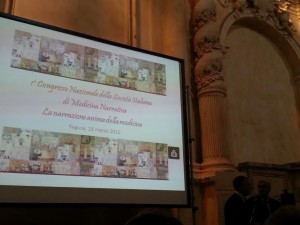 Last week, the three-days first Convention of the Italian Society of Narrative Medicine took place in Ragusa, in a deconsacreted baroque church setting.
Speakers came from all over Italy with the aim to confront on the infinite possibilities offered by Narrative Medicine: the personalization of cares, a more linear health organization, new incentives in Education and Research field – and, above all, the well-being of all people involved in illness and care environment, from patient to caregivers. 
Here, the term "Narrative Medicine" seems almost constraining, and could be extended into "Narrative Well-being" or "Narrative Health".
Involved professions and roles were various: not only physicians and patients, but nurses, psychologists, psychotherapists, case-workers, counselors, voluntary associations, patients associations, theologians too.
A stakeholder mosaic who works on the importance of words as main tool for well-being, for practicing positive relationships.
For a long time speakers discussed on the – stereotyped – division between Evidence-Based Medicine and Narrative Medicine, and the community at the Convention agreed upon the fact that the one enriches the other, and so numbers can dialog with words, and vice versa.
Two essential issues were how to analyse words collected in narratives, and how to collect evaluation metrics.
Presented projects were very interesting: coexistence possibilities between clinical and scientific approach and the humanistic one were exemplified – the ICF integration with narrative through which people with disability expressed emotions, desires, expectations and ambitions in respect to rehabilitation project, as well as the statistical positivity following Narrative Medicine application to the cardiological visits, in respect to routine ones.
So, Narrative Medicine is useful, and becomes a more and more legitimate way in the scientific community.
The rhythm was extraordinarily intense: theory and practice, experiential laboratories, art, cinema, literature, photography, creative writing, all turning around existential issues of health, disease, growing, living and dying: then, Narrative Medicine practiced and lived not only as a place of suffering, of telling about sad passions and emotions, but as a flowered garden of attachment, hope and smile.