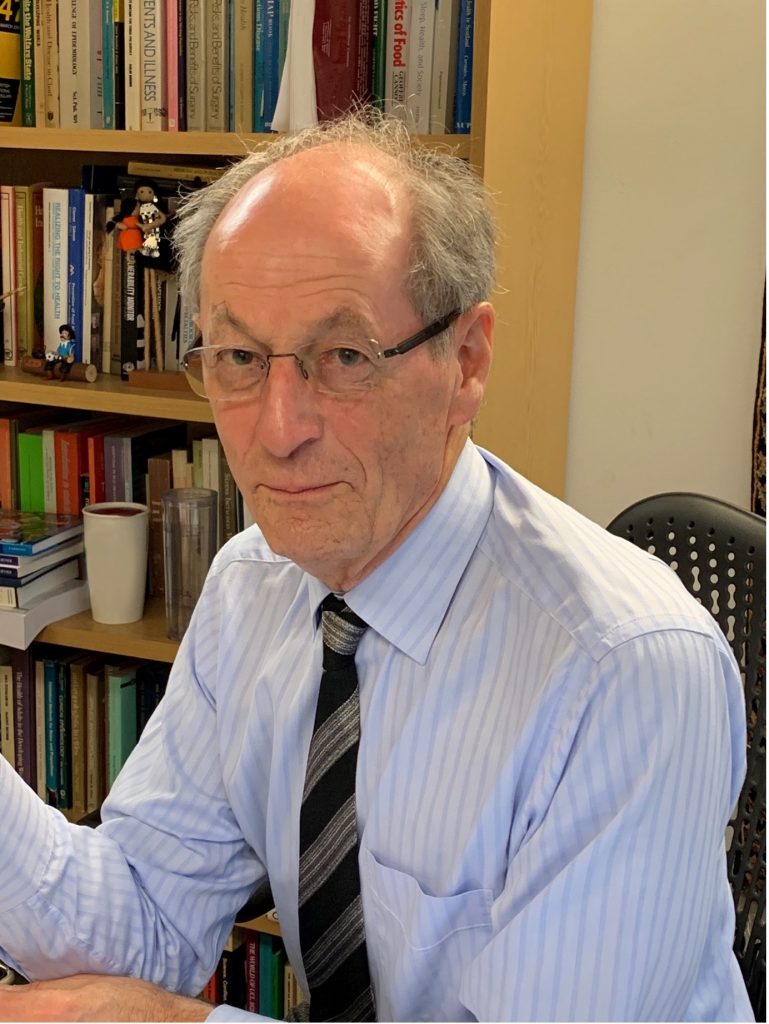 BUILT BACK FAIRER: THE COVID-19 MARMOT REVIEW: WHY FAIRER IS BETTER THAN BETTER?
The title is of course echo of "built back better". I wanted to make my work focused on inequities in health. 'Better' could mean anything, while I wanted to put equity of health and wellbeing at the heart of all government policies. So, I wanted to make it specifically about equity of health and wellbeing. 'Fairer' is more specific.
TALKING NOW ABOUT 2020, WOULD YOU MIND EXPLAINING WHAT HAPPENED IN THE LAST YEAR? IN OUR REGION, LOMBARDY, IT WAS TRAGIC SINCE WE HAD THE HIGHEST MORTALITY RATE ALL OVER EUROPE. DO YOU THINK THERE WERE INEQUALITIES IN ACCESS TO CARE AND WHAT ABOUT THE CONSEQUENCES?
I focus not only on inequalities on access to care but on inequalities in health. Let me start with the UK, about which I published many reports. In February 2020, we published the Marmot Review 10 Years On (in 2010 we published Fair Society Healthy Lives – The Marmot Review), looking back to the last decade. We noticed first that the overall improvement in life expectancy had slowed dramatically, meaning health stopped improving. Second, Inequalities in health got bigger: if you classify people on where they live and classifies where they live by level of deprivation, the more deprived the area, the shorter the life expectancy. That social gradient got steeper over the last 10 years. Thirdly, life expectancy for poor people outside London went down. We noticed a slowdown in improvement in health, an increasing in inequalities and poor people getting sicker. The 2010 report highlighted six domains of recommendation: early childhood, education and lifelong learning, employment and working conditions, having enough money to live on, healthy and sustainable communities in which to live and work, social determinant approach. All of those got worst over the decade because of austerity, decline of government spending that was done in a regressive way, magnifyinginequalities.
And that was where the pandemic hit. I could have quoted Albert Camus, La Peste: the pestilence is at once blight and revelation, meaning that it brings to the surface the reality of that corrupt society. That language is a bit strong for me, I would say that the pandemic exposed the underling inequalities in society and amplified them.
And it proved so. Quoting again from the UK data, we saw that the mortality from COVID-19 exactly parallels the social gradient: the more deprived the area, the higher the mortality. Because of the pandemic, we saw to a new extent racial-ethnic difference: in Britain, people classified as Africans, Black-Caribbeans, Bangladeshi, Pakistani and, to less extend, Indians, had high mortality from COVID-19. All of inequalities, social-economic and social-ethnic, were exaggerated by the pandemic. The social response to the pandemic inflated the inequalities even further. People in white collar occupations, who can work from home, could continue to work, not being exposed to the virus and keeping their income. While as Build Back Fairer: The COVID-19 Marmot Review showed, the lower the income, the more likely people are to work in an occupation that was shut down or exposed to the virus being in a front-line position.
There is then a case to be made that countries which did worst in the pandemic – USA, UK, Peru, Brazil – in general have a problem of governance and societal cohesion. I'm not so sure about Italy… but my impression is that what happens at a regional, provincial level was much more important of what is happens at a national level.
IN YOUR REPORT YOU DEALT WITH INEQUALITIES IN EARLY YEARS AND IN EDUCATION. WHAT IS THE CORRELATION BETWEEN EDUCATION AND HEALTH? HOW THE FIRST AFFECTS THE OTHER?
I think of education in two ways. The first is that education gets you a better job, a better income, a nicer place to live… All factors good for your health. If you have a university education, you have a higher income, you get a better and more satisfying job. The second way I think of educations is that it provides life and management skills, which are really very important. People with better education are more able to interpret, for example, health information, to negotiate their way through the system of modern life. Both of these aspectsare important. For example, I think that education is the root of health literacy. Health is related to educations because it relates to your place in society and how you manage complex society.
SO, COPING TO PANDEMIC IS ALSO CONSEQUENCE OF EDUCATION. CHANGING THE TOPIC, IN ITALY WE HAD TERRIBLE CONSEQUENCES ON WOMEN, MANY OF WHOM LOST OR QUIT THEIR JOB TO TAKE CARE OF THE CHILDREN BECAUSE THERE WAS DISTANCE LEARNING. AT A SUCH EXTENT THAT LAST YEAR REPORT ON WOMAN EMPLOYMENT WERE TERRIBLE, THERE WAS A GOING BACK TO THE BEGINNING OF 2000s. WOULD YOU COMMENT ON THIS?
Yes, we documented in our British report – but it's likely to be a more general phenomenon –two particular worrying issues. First, the rise of mental illness and depression in young women (we saw it in young men too, but it was more marked in young women). Second, the report of domestic violence.
Women have always taken more of the burden, and with homeschooling is more likely that women had borne even more. Most people are not trained educators, so to help children with homeschooling is very difficult. The reason why we like teachers to have high qualification is because we think they are expert in what they do. But most people are not expert teachers.That load fell on women disproportionately. We can see the impact on women health and being victim of domestic violence during the pandemic.
Built Back Fairer means addressing all of these issues. In general, children in poor families do worst in school comparing to children from richer families, but that has been made worst by the pandemic. Children from economically well-on families were more likely to participate in online classes because they had computer, broad band, well organized schools… On the other hand, children from more deprived background did not have all these facilities, and this fell on parents that themselves were less educated and less able to help them.
Built Back Fairer is also about addressing the educational divide and putting the extra resources, helping poor children to catch up, but also in helping women to get back into meaningful activities outside the home. These are the big challenges. And this is the reason why I say fairer.
This morning in the UK it was announce that the governament is investing 1.5 billion pounds towards caching up in education. The estimate was 10 billion, but they are at least acknowledging the problem and trying to fill the divide.
TALKING NOW ABOUT VACCINATION, WE HAD A GOOD START IN TERMS OF PRIORITY CRITERIA, BUT THEN THE EPIDEMIOLOGICAL FRAGILITY SCALE WAS VIOLATED. EVENTUALLY IN MARCH THIS YEAR THE WAY OF PROCEEDING WAS FIXED AND WE ARE CATCHING UP. WHAT DO YOU THINK OF WORLD ACCESS TO VACCINATION?
I have been critical about how the British government have handled the pandemic, with the exception on vaccine, which have been a success story all the way along. The government tooka risk and guaranteed to the pharmaceutical industry that they will buy their vaccines before anybody knew whether they would have a vaccine. They didn't leave it to the market, they invested upfront. I am full of admiration to that decision. That decision was taken way early in the days, even before the first clinical data were published. Oxford university teamed up with AstraZeneca that would not make a profit from the pandemic. Then the vaccination campaign was organized by epidemiologically based priority groups.
On a global scale, it is of yesterday the news of the call for international mobilisation to a world-wide vaccination and support campaign worth 50 billion dollars, from a recent proposal from IMF, together with WHO and World Bank group, WTO and others.
---
Professor Michael Marot does not focus simply on access to care or care inequalities. He is a long-term thinker, analyzing the consequences of social factors, such as early child development, and education: the better educated a population is, the healthier the whole population will be. Once there was great discourse on welfare, that concept that includes education, free access to culture, equal salaries between women and men; now the focus is globally brought (after the damages of the spending reviews) to public health. Prof. Marmot reminds us that the first needed investment is to reinforce public children's education, more than just only ICU bed units.
He is a systemic thinker, trying to contain that divide (the word he repeats more frequently) among successful and unsuccessful human beings, not simply because of merits, but because of lack of equal opportunities.