The book "Narrative Medicine. Bridging the Gap between Evidence-Based Care and Medical Humanities" by Maria Giulia Marini is available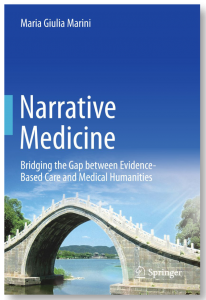 The book "Narrative Medicine. Bridging the Gap between Evidence-Based Care and Medical Humanities" by Maria Giulia Marini is now available, both printed and ebook.
This book examines all aspects of Narrative Medicine and its value in ensuring that, in an age of Evidence-Based Medicine defined by clinical trials, numbers, and probabilities, clinical science is firmly embedded in the Medical Humanities in order to foster the understanding of clinical cases and the delivery of excellent patient care.
The Medical Humanities addresses what happens to us when we are affected by a disease and Narrative Medicine is an interdisciplinary approach that emphasizes the importance of patient narratives in bridging various divides, including those between health care professionals and patients. The book covers the genesis of the Medical Humanities and of Narrative Medicine and explores all aspects of their role in improving healthcare.
It describes how Narrative Medicine is therapeutic for the patient, enhances the patient–doctor relationship, and allows the identification, via patients' stories, of the feelings and experiences that are characteristic for each disease. Furthermore, it explains how to use narrative medicine as a real scientific tool. Narrative Medicine will be of value for all caregivers: physicians, nurses, healthcare managers, psychotherapists, counselors, and social workers.
In "Narrative Medicine: Bridging the gap between Evidence-Based Care and Medical Humanities" Maria Giulia Marini provides a sensitive and astute rationale for including Narrative Medicine in the healthcare education and practice, from the undergraduate classroom to the clinical encounter. Marini gently, but pointedly, critiques the culture of Evidence-Based Medicine (EBM) as privileging the quantitative, formal, technological, and mechanistic over the idiosyncratic, highly personal, experiences of the humans involved in all things medical: health care providers, care-givers, and patients. As a corrective, she argues that the study and practice of Narrative Medicine gives all constituents a voice, and a shared space in which to listen to one another. As evidence, she provides careful research, including work she and colleagues have done to integrate Narrative Medicine into clinical practice. Measures as simple as encouraging patients and providers to keep, reflect on, and potentially share journals of their experiences can have a meaningful, positive effect on the individual's insight into his or her own experiences, as well as the provider-patient relationship. Marini makes a convincing case that varied approaches to Narrative Medicine have the potential to foster a healing respect, communication, and truly humane empathy throughout the illness experience. – Associated Professor in English and Director of Writing Programs at the Boston University Massachussets College of Pharmacy and Health Sciences (MCPHS).
Share: